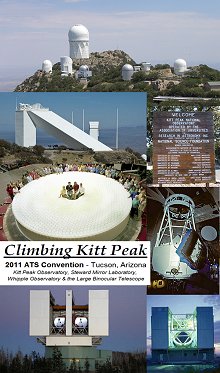 Climbing Kitt Peak
The 2011 Convention of the Antique Telescope Society will be held October 28 – 30 in Tucson, AZ – Kitt Peak Observatory and the Steward Mirror Laboratory, with two special tours to the Whipple Observatory on Mount Hopkins (10/31) and to Mount Graham International Observatory and its Large Binocular Telescope (11/1).
2011 Conv. Schedule & Registration
2011 Call for Papers
ATS Medals & Nomination Form
Kitt Peak National Observatory
Steward Mirror Laboratory
Whipple Observatory
Mount Graham International Obs.