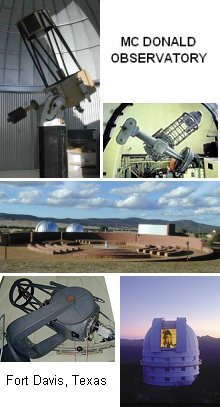 Texas Titans
Each Fall the ATS has held its annual meeting in proximity to historic observatories and astronomical instrumentation in the United States, Canada, and more recently, in Europe. The Society also rotates its meetings to varying locations to best accommodate the access to its many far spread members. The meetings generally cover 3-6 days, depending on location, scheduled papers and events, and span over a weekend. Below are the next upcoming meeting locations.
#15: 2006 "Texas Titans", Fort Davis, TX
Friday, Sept. 29 – Sunday, Oct. 1
We will be visiting the McDonald Observatory, and staying at the Indian Lodge.
2006 ATS Convention Speakers & Form
Special note: In order to have a valid room reservation, you MUST fill out the form and send in the payment to Walter Breyer. Calling the Indian Lodge WILL NOT reserve a room for you. The ATS has paid a deposit of $90.40 (the first night's rental charge) for 22 rooms. You must repay the ATS this $90.40. Your bill at the Indian Lodge will have a $90.40 credit.